Monday, January 17, 2011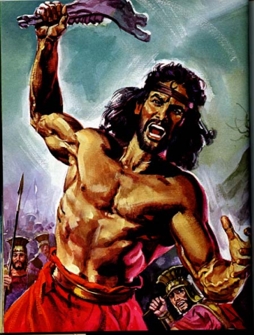 It's a shame people don't really read the Old Testament anymore. I'm sure part of it has to do with the reduced importance given to Bible education in today's congregations, along with a feeling of irrelevance toward Israelite history. It's pretty much a cliché now to talk about the God of the Old Testament as an angry, genocidal deity, thanks to a bunch of antagonistic writers who have easily taken advantage of our generation's widespread biblical illiteracy. This is unfortunate, because the Old Testament is just bristling with narratives so raw in their humanity that it amazes me how we could ever call such a book boring.
People think that the purpose of reading the Bible is so you can learn to be a good person. Ehh, I suppose that's true. I also like reading the Bible to find out how to become more badass.
I believe God values the virtue of badassery, that He knows what it means to be a badass, and that part of the transmission of His divine inspiration to the writers of the Bible includes making sure that they left in all the most badass details for future generations to celebrate. Because you have to understand, badassery is indeed in the details. Let me explain. I'm sure most of you are familiar with the story of Samson slaying 1,000 Philistines with but the jawbone of a donkey. But look at this strange detail that's put into the end of that story: "As soon as he had finished speaking, he threw away the jawbone out of his hand" (Judges 15:17). I ask: why, oh why, would the writer of the Book of Judges record such an unnecessary detail, unless he thought exactly the same thing I was thinking: "You want to know just how badass Samson really was? This is how much of a badass. He just casually tosses aside his weapon and saunters away after massacring a thousand men single-handedly. Now that's a pimp hand!"
Galatians 5:22 says that the fruit of the Spirit is "love, peace, patience, kindness, goodness, faithfulness, gentleness, self-control." No disrespect to my man Paul, but he forgot to include badassness on that list. Because time and time again, the Old Testament records moments in which the Holy Spirit turns people into superhuman killing machines. Let's take Judges 14:6 as one example: "Then the Spirit of the Lord rushed upon Samson, and although he had nothing in his hand, he tore the lion in pieces as one tears a young goat." Ok… can I just say, why can't that be MY spiritual gift?!
If we can re-appropriate the Old Testament into our daily spiritual walks, perhaps the namby-pamby nature of our response to life's hardships can be supplanted with an air of daring confidence and winsome braggadocio that is sorely absent in the attitude of today's Christian. Just go out there and be badasses for God, you know? Also, that sentence I just wrote was awesome. I used the phrase "winsome braggadocio," did you catch that?
Let me share with you now some key moments of badassery in the Bible:
2 Samuel 18:10-14 - "And a certain man saw it and told Joab, 'Behold, I saw Absalom hanging in an oak.' Joab said to the man who told him, 'What, you saw him! Why then did you not strike him there to the ground? I would have been glad to give you ten pieces of silver and a belt.' But the man said to Joab, 'Even if I felt in my hand the weight of a thousand pieces of silver, I would not reach out my hand against the king's son, for in our hearing the king commanded you and Abishai and Ittai, "For my sake protect the young man Absalom." On the other hand, if I had dealt treacherously against his life
(and there is nothing hidden from the king), then you yourself would have stood aloof.' Joab said, 'I will not waste time like this with you.' And he took three javelins in his hand and thrust them into the heart of Absalom while he was still alive in the oak."
The story of King David's twilight years, when his son Absalom stole the throne in open defiance against his weak-hearted father, is one of my all-time favorite tragedies. David, as great and beloved a monarch as there ever was, utterly failed as a father, clinging to the love of a child whose self-destructive rage triggered a civil war. When Absalom finds himself stuck in a tree, the badass hero of the story, David's commander Joab, wastes no time. Disobeying a direct command of David for the sake of the kingdom, he throws not one, but three javelins straight into Absalom's heart… probably from point-blank range too, since the dude was just hanging there helplessly. Man, talk about overkill. The badassness of Joab is further recorded when he hands King David a verbal smackdown of epic proportions for being a little crybaby (2 Samuel 19).
2 Kings 10:16-17: "And [Jehu] said to him, 'Come with me, and see my zeal for the Lord.' So he had him ride in his chariot. And when he came to Samaria, he struck down all who remained to Ahab in Samaria, till he had wiped them out, according to the word of the Lord that he spoke to Elijah."
"Come with me and see my zeal for the Lord." A truly badass line from a truly badass king. In the Northern Kingdom, the tyranny of Ahab and Jezebel's household had to come to an end, so God appoints Jehu to be His instrument of sweet sweet vengeance. 2 Kings 9 is in the running for most awesome chapter in the entirety of the Old Testament. It starts with a classic badass standoff in which Jehu calls out the King of Israel. An ensuing battle in which Jehu spectacularly kills not just one king, but he assassinates Ahaziah, the King of Judah, as well for good measure. (Never a good idea to make an alliance with God's enemy.) Then he heads down the street and kills the Queen Mother Jezebel, by one of my favorite death maneuvers of all time, defenestration. Cut to detailed description of a gruesome death as fulfillment of God's prophecy. And then widespread reform as Jehu executes all Baal worshippers. If you want to usurp a throne, that's how you do it.
Donkey Jawbone Badass Rating:
Leviticus 4:31 - "And all its fat he shall remove, as the fat is removed from the peace offerings, and the priest shall burn it on the altar for a pleasing aroma to the Lord."
God loves the smell of bacon. 'Nuff said.
Stay tuned for more badass moments from the Bible in future segments. Till then, I fully expect you all to prayerfully consider if your gifting is in ripping lions apart.
Favorite Posts
Blog Archive